Lively Fun Programs for Seniors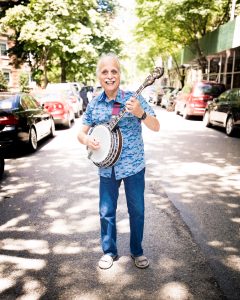 Since the late 1990s, I have been providing interactive, engaging programs for Nursing Homes, Assisted Livings, and Adult Day Care Centers. I perform for Alzheimer's patients, very high functioning older adults, and every group in between. I entertain large groups all the way down to one-on-one in room visits. It is my great pleasure to bring smiles to the resident's faces as they sing along to cherished memories.
(973) 8097149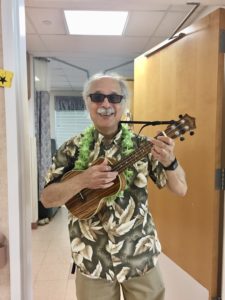 My programs consist of:
Sing-a-longs
Big Band songs
Broadway show tunes
Classic Rock
Country
Selections from

Frank Sinatra
Tony Bennett
Elvis Presley
Nat King Cole
Neil Diamond
Dean Martin
The Beatles
Billy Joel
John Denver
and many more…
International favorites including:

Latin American
Jewish
Italian
French
Hawaiian
Jamacan
The residents of "The Dwelling Place" have been very fortunate to have Flip come and entertain them on a regular basis. Because most of our residents are unable to get out of bed, Flip sings to each resident individually in their room and personalizes each song by request. This gives each resident an opportunity to experience something special. During the times when we are able to celebrate a party and gather everyone in our Activity Room,  Flip brings his enhanced equipment and delights the residents and their families with a broad selection of familiar tunes, often inviting the crowd to join in the fun.  I am always thankful for the joy he brings not only to the residents but to the staff as well. The Dwelling Place - Saint Clare's Health System
Flip has been a friend of our facility for over 25 years now and we have grown to eagerly anticipate his performances. He brings with him a vibrant energy, which engages and enthuses the residents. As a musician, Flip plays seamlessly across the decades and musical genres, enrapturing us in a magical trip down memory lane. We love visits from Flip because he always get us up and dancing to our favorite tunes! Garden Terrace Nursing Home
Entertainer Flip Peters has been performing for the residents of Jewish Federation Plaza for over 10 years. Flip's shows are always a delight. I receive many compliments from the residents every time he plays for one of our three locations. They tell me that they love his selections and the many memories he brings back. We always look forward to having Flip come back to perform for us!
Marvelous, upbeat and simply entertaining are the words I would describe Flip Peters and his entertainment skills! I have been working with Flip for some time now and every time he performs at CareOne at Madison Ave the residents are clapping and singing along to all the familiar tunes.  I can honestly say the residents at CareOne Madison Ave truly enjoy every performance that Flip has provided for us.
Flip is compassionate, caring and talented. He can make a group swing and sway even though they were feeling "down" just a few minutes before he entered the room. He is generous with his time and is always there to help out. He is a fine musician and it is always a pleasure and an honor to have him at Senior Source located in Hackensack, N.J.